It's time to grab some popcorn as this 102-cm (40) Full HD LED TV from Wellteck brings the experience of watching a movie right to your home. The A+ grade panel provides crisp visuals, so you can enjoy even the subtlest details. Whether it's hearing footsteps in the night or rustling of the leaves, you won't miss out on any audio detail, thanks to the enhanced sound quality provided by the AmpliFi Speakers Technology.
A+ Grade Panel
The A+ grade pure prism panel eliminates ambient light reflection and provides picture-perfect clarity, taking your movie-watching experience to the next level.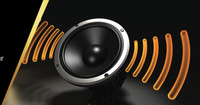 AmpliFi Sound Technology
This TV features 20 W speakers and utilises the AmpliFi Speakers Technology to provide a clear and loud sound, making your Sunday-night movie feel more real.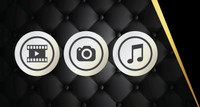 Built-in Media Player
Media files can be played easily by connecting a USB pen drive or a portable USB drive to the TV.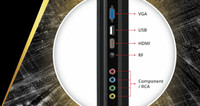 Headphone + USB/HDMI Connectivity
You can access your photos, music, and videos on the big screen of the Wellteck TV by connecting your storage devices to the USB port. You could also connect your laptop and other devices to the HDMI port. Also, if you feel like watching a movie late at night, you can use headphones, so you don't wake up the other people in your house.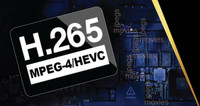 MPEG H.265 Decoder
The High-efficiency Video Coding (HEVC) provides better compression and reduces the file size to almost half without compromising the picture quality.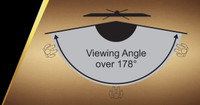 Wide Viewing Angle
You and your friends don't have to fight over the centre spot anymore to enjoy a movie. This TV features a 178-degree viewing angle which allows you to watch your favourite movies and TV shows without any change in colour, contrast, and gamma from almost any angle.
This TV reduces the noise and disturbance from all the input devices connected to it, providing you with a smooth picture output. x USB : Get content from USB drives